Holiday Crafts that Promote Sensory Skills – Part I
Holiday Crafts that Promote Sensory Skills – Part I
Have you ever had a flashback to a special time in your life? Whether it's triggered through a song or a certain smell, it's happened to the best of us. This occurs when one or more of our senses have been associated with a particular food, smell, activity or a prominent event that played a significant role sometime in our lives. The smell of your aunt's perfume or the lyrics to your favorite childhood song have been stimulated through your senses, producing a flashback. Children and adults are prone to learn best and retain the most information when something like this takes place. It is important for children or any age group to experience certain phases with our own sensations in order to facilitate learning.
This holiday season, encourage your child to experiment with activities that stimulate their sense of touch, smell, taste, sight and hearing. Sensory activities are used to encourage children to attain the skillsets and the different opportunities to investigate materials with no preconceived knowledge. With that, they are developing and refining their cognitive, social and emotional, physical, creative and linguistic skills. Learn and play with your child using these activities encouraging sensory play below:
TOUCH
•   Homemade Christmas Wrapping Paper
To make one roll of paper, you will need:
1 roll of white or craft paper
Choice of art supplies, such as colorful acrylic paints, crayons, or markers
Sponge rollers or an unused kitchen sponge
Get your kids in the spirit of giving by letting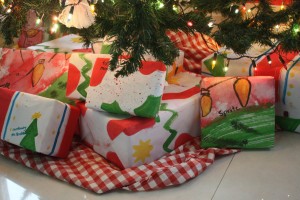 them make their own wrapping paper! Roll out the paper on a clean surface. Decide what kind of design you would like to make. Either paint or draw the design and then supplement it by cutting the sponge into a holiday shape such as a Christmas tree or a star. Put the finishing touches on your homemade wrapping paper by dabbing the sponge in some paint then stamping it on the paper.
Tip: Let one paint color dry before starting with the next. Set up a fan near your work to minimize drying time.
SIGHT
•   Snowman Snack-Container Craft
You will need:
Recycled snack container, such a tube of Pringles
Craft glue
Pom-pom or decorative poofs, blue, about 1 inch in size
Pipe cleaner, black
1 sheet of construction paper, orange
Piece of blue rickrack, long enough to go around your carton with some extra to hang
Black marker
Throw together this creative and simple snowman snack holder using a recycled plastic drink container. First, remove the label from the drink container. Using craft glue, adhere a blue pom-pom to each side of the lid. Then glue each end of a black pipe cleaner directly above each pom-pom. Crumple, then roll a 1×1-inch square of construction paper into a small cone shape. Glue the paper cone onto the container using craft glue. Tie a strip of light blue rickrack around the container for the snowman's scarf. Draw on two eyes of coal with the black market and you are ready to celebrate! See an example on Pinterest.
TASTE
•   Graham Cracker Christmas Village
A quick trip to the candy store is all it takes to find ingredients for this easy-to-make Christmas scene. Pick out various types of candy and small cookies (gum drops work well for decoration); grab a few tubs of frosting and boxes of graham crackers. To make the base for your buildings, stack enough graham crackers to make a cube, then build the walls around it. Adhere the walls and roofs using frosting between pieces, and decorate your buildings with sprinkles and candy.
Tip: take a sandwich sized plastic baggie, fill it with frosting, then seal. Squeeze the frosting into one corner to use the baggie as a piping tool. Snip one of the bottom corners of the baggie and it can now be used for decorating your house!
Check back for Part II, where we will cover smell and hearing activities!
Wrapping Paper Photo Credit – Jimmie on Flickr