Send a Hug & Our Favorite Motor Skill-Friendly Valentine's Day Crafts
Send a Hug & Our Favorite Motor Skill-Friendly Valentine's Day Crafts
Love is in the air! Valentine's Day is right around the corner and it could only mean a few things… heart-shaped crafts, goodie bags, printed cards, flower bouquets, chocolates and handmade gifts meant for the ones we love most. This year, V-Day activities done in the classroom or at home are a great way to get your child excited about the holiday, not to mention these crafts help promote the development of their fine motor skills.
This is the perfect opportunity to practice a few crafting skills with your children. Listed below are a few activities that may help with their development while also creating those tokens of love:
1. Hug In The Mail
This is an adorable Valentine's Day craft your child can give as a gift to a family member.
Take a large piece of butcher paper and have child lay on it with their arms spread out horizontally on each side like a (t) position
Trace outline of only the child's upper body
This helps child learn patience (while they lay there) and improve sensory motor skills
2. Finger Painting
This activity practices sensory skills (finger paint), hand eye coordination (tracing hand) and scissor skills.
Use contact paper (kind of like decal paper) and cut out a heart shape. Lay it on a cheap canvas.
Use finger paint to paint around heart-shaped piece of contact paper.
Peel contact paper off (this should leave a white heart on the painted canvas).
Then, if you want to go a step further, trace child's hand in white heart and color in.
3. Valentine Heart Button Craft for Kids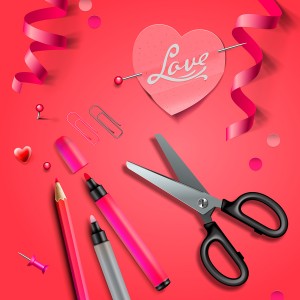 Here's what you need:
1 Red 12×12 piece of scrapbook paper
1 Pink 12×12 piece of scrapbook paper
School Glue
Buttons in all different colors and sizes [the brighter the better!]
Cut out a large heart from the red piece of 12×12 scrapbook paper and make a swirl design in glue around and around the shape of the heart.
Add buttons all around the heart until it is filled up.
4. Valentine's Day Tissue Paper Heart Craft
This beautiful heart craft is an amazingly simple Valentine's Day craft for kids. Using contact paper in lieu of glue, even very young toddlers can make this heart craft. Older can have a hand in cutting out the tissue paper. A few of these gorgeous tissue paper heart crafts hung on a sunny window would make fabulous Valentine's Day decorations as well. Here's what you need:
White poster board
Clear contact paper
Red, white and pink tissue paper
Stained glass heart template
Scissors
Once you have your supplies:
Print out our heart template. Cut the heart out and trace onto white poster board. Cut out the heart.
Cut out the middle of the heart and discard it.
Cut a square piece of contact paper that is big enough to fit the heart template. Peel the backing paper off of the contact paper and stick your heart outline onto it. You'll trim up the excess later.
Cut tissue paper into 1 inch squares. This is a great time for your children to practice their scissor skills!
Stick the tissue paper onto the heart making sure to overlap the pieces. It's ok if the tissue paper goes over the edge of the template.
Cut a second square of contact paper, peel off the backing paper and stick it to the back of the heart.
Trim off the excess tissue paper and contact paper from the heart.
Add a piece of string and hang on a sunny window.
These are great ways to celebrate the day with your little loved ones!